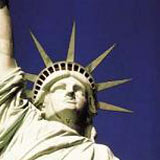 Club that integrated Strip in fire

The Moulin Rouge, a Las Vegas landmark that featured Nat King Cole, Frank Sinatra and Sammy Davis Jr. and made history for being the first desegregated casino on the Strip, was destroyed by fire last night. Fortunately, no one was killed in the blaze although three were injured. "This is a big loss for Nevada and for the African-American culture," said Dale Scott, chief executive of the Moulin Rouge Development Corporation, which was renovating the property and planned to reopen the casino on its 50th anniversary.


The Moulin Rouge, about a mile north west of the central casino district, opened in 1955 as the only casino in Nevada that did not practice racial segregation, an event which made the cover of the June 20th, 1955 Life magazine.


The casino closed after only six months, but in 1960, city and gambling leaders met there to officially desegregate the Las Vegas Strip. The 40,000-sq-ft building (which included a ballroom, showroom, bakery and tavern as well as a casino) had actually been listed this month among 11 Nevada historic places in danger of being lost to development and other pressures.